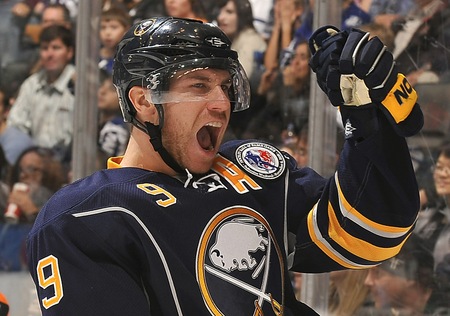 Last season: 42-35-5, 89 points, 10th West, missed playoffs
Key Additions: Derek Roy, Jaromir Jagr, Ray Whitney, Cody Eakin
Key Losses: Steve Ott, Mike Ribeiro, Adam Pardy, Sheldon Souray
Offense: Losing Ribeiro is going to be tough for the Stars to recover from right away. He was tied for second on the team in points last season with 63. However, the Stars still have a few guys that are certainly going to rack up the points. Leading scorer for the team last season, Loui Eriksson, should not be forgotten and the addition of Derek Roy should provide a terrific offensive boost. In the long run, he is way more valuable than a guy like Steve Ott. But after Eriksson and Roy, the Stars have a lot of guys that provide secondary scoring, not primary. Jagr is great, but his play declined the second half of last season. It's up to guys like Jamie Benn and Michael Ryder to improve on last season, and that is something that I definitely see happening. If those two can carry the offense, the worries of primary scoring go away.
Defense: Defense is where things get dicey for the Stars. They really do not have any big names and that's where the team starts to fall apart. The offense can come together, but every team needs to have at least one guy on defense that can be counted on for a matchup against a star opposing player or to calm the younger defensemen down. But when Stephane Robidas is the only veteran defensemen on your team, you have a problem.
Goaltending: The goaltending situation for Dallas is not bad at all. Kari Lehtonen is perfectly capable of continuing to be one of the very few true starting goaltenders in the league. So many teams don't even know who their starter is, but the Stars do and they have a great number one goaltender. Unfortunately for Lehtonen, his work is cut out for him with the defense in front.
Standout Player: A change of scenery is always great for any player. Derek Roy should be no different. After his injury plagued season two years ago, he just wasn't the same last season. But the three seasons prior to that cannot be a fluke. Roy is 25+ goal scorer and the Stars could really win the trade with Buffalo if he gets back to being that player again. Dallas will need that.
Prediction: 4th Pacific, 11th West
The Stars are a tricky team. They gained some key players, but lost some. It could easily end up evening things out, and that defense is just so questionable even with Lehtonen in net. I see the Stars missing the playoffs yet again. There just isn't enough there to think otherwise.