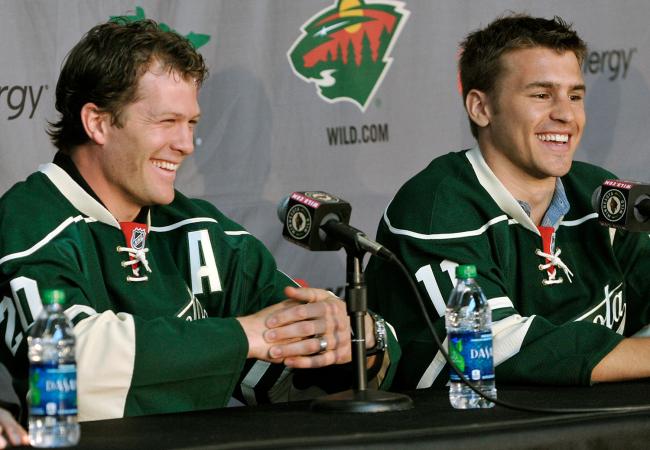 Last season: 35-36-11, 81 points, 12th West, missed playoffs
Key Additions: Zach Parise, Ryan Suter, rookies
Key Losses: Guillaume Latendresse
Offense: For a while now, the Wild have been a team that gets picked on for being so boring and only about defense, but add in Zach Parise and rookies Mikael Granlund and Charlie Coyle to a roster of forwards with Dany Heatley and Mikko Koivu and all those views will have to go out the window. Just adding Parise alone changes things. One would have to believe that the GF numbers will change drastically for Minnesota this season. They'll no longer be boring.
Defense: Minnesota has a very young defense and a young team in general. But signing Ryan Suter instantly makes the defense so much better. Guys like Justin Falk and Jared Spurgeon are very young, but they can learn from Suter. Relying on young guys for defense can certainly be an adventure for teams, but just one guy can make a defensive core so much better, so expect that to be the case for the Wild this season.
Goaltending: The goaltending situation in Minnesota is interesting. Fans have a love hate relationship with Backstrom and he is often injured, so I would expect to get to know Josh Harding. It's hard to predict anything at all in this category with the bad luck the Wild have. 
Standout Player: The obvious choice is Zach Parise. He was the most sought after free agent this summer. And of course he'll be supplying plenty of offense. But also remember the name Mikael Granlund. He's set for his rookie season with the Wild and while he's under the radar heading into the season, once people see him play, they'll know what the hype in Minnesota is all about.
 Prediction: 2nd Northwest, 8th West
The Wild certainly improved their team over the offseason. The West is going to be so tight yet again, but if the two big signings go as expected and the goaltending does not fall apart, Minnesota can not only make the playoffs but actually do something when they get there.